"How to Create a Gift So Powerful That It Will Reduce Your Loved One to Tears or
Your Money Back. Guaranteed."
Dear Fellow Gift Seeker: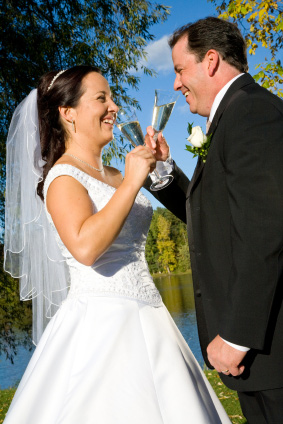 Finding the perfect gift is hard.  And for some people it is simply impossible.  How do you shop for the person who has everything? 
Even though "there is a card for every occasion," how hard is it to find a card that says exactly what you want to say?
Have you ever found yourself in the card section at a store reading card after card searching for the "one" card that shares how you truly feel?    
When you could not find that "one" card, have you ever simply given up and settled for the best joke card that fits with a subject that your loved one cares about?  
And what about those special occasions when a card is just not enough?
Have you ever gone shopping for that one "unique" gift to show your loved one how much you care, but ended up buying something that your loved one could "use"? 
Have you ever settled for a gift card?  How do you choose the "amount" that reveals exactly how much you care?
Have you ever searched forever and become so excited that you had finally found the "perfect" gift only to have your loved one open the gift and look disappointed or bored with your choice?    
What If There Was a Simple Way for You to Share How You Really Feel in Your Own Words, and What If There Was a Way for Family and Friends to Do the Same?
If a picture is worth a thousand words, then the sound of a forgotten voice must be worth one hundred thousand words.
Just imagine that you are sitting at home and the phone rings. When you pick up the phone, you hear the voice of a friend that you have not talked to in years. How many images flood through your mind about the experiences you have shared together – all automatically without any thought?
Then imagine that your friend tells you that he just wanted to call and let you know he was thinking about you, and he wanted you to know how important you have been in his life. Then your friend shares something that he admires and appreciates about you and recounts a favorite story about your adventures together. How would that make you feel?
Next imagine that ten of your family members and friends, or 50 of your family members and friends, do the same thing on the same day – they call to tell you that they admire and appreciate you and that they will never forget the time that you . . . .
Finally, imagine that all of these calls are recorded, so that you can listen to them again and again.
How do think this would make you feel?
This is the gift that you can give by using Priceless Memories.
Simple to Create:
Before a special event arrives, we provide you with a toll free telephone number, so that family and friends can call from anywhere in the United States to share their thoughts and feelings and stories about the persons being honored: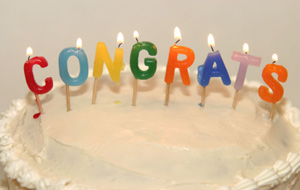 The Birthday boy or girl
The bride and groom
The couple celebrating the birth of their new child
The graduate
The person retiring or changing jobs
The couple celebrating a special wedding anniversary.
When family and friends call, they listen to a customized greeting instructing them on how to leave their message.
Once all the telephone calls have been made by a selected deadline, the calls are transferred to a CD with a customized label bearing the name of the person or persons being honored. The finished CD is then delivered in a CD case that you choose.
No special technology is required for family and friends to record their messages. Everyone simply calls the toll free number using a touch tone phone.
What You Receive:
A toll free number for family and friends to call (and a toll number to be used by family and friends calling from outside the United States)
A customized email script that can be circulated to family and friends instructing them on how to leave their message
50 calling cards with the toll free number to be distributed to family and friends who do not use email
A customized greeting on your toll free number that guides family and friends on how to leave their message
A CD recording of all of the telephone calls received by the deadline with a customized label bearing the names of the person or persons being honored
Your choice of the case containing the finished CD
Price Options:
Our basic package costs $97.00 and includes all of the above items with your CD delivered in a plastic DVD case having a custom label.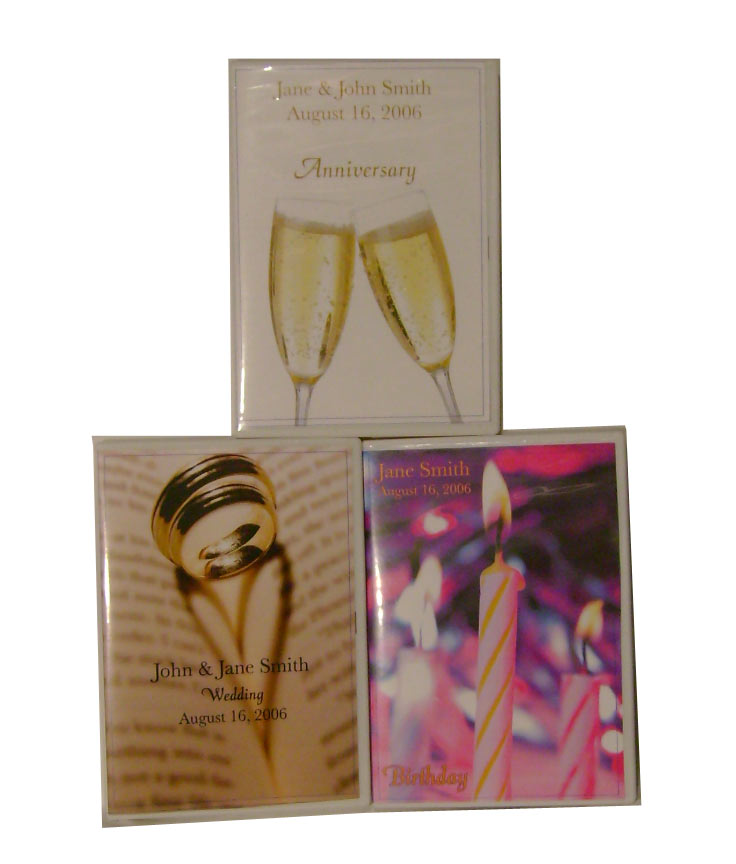 For an additional $10.00, your CD is delivered in an upgraded black leatherette case with a place to include a photograph of the person or persons being honored.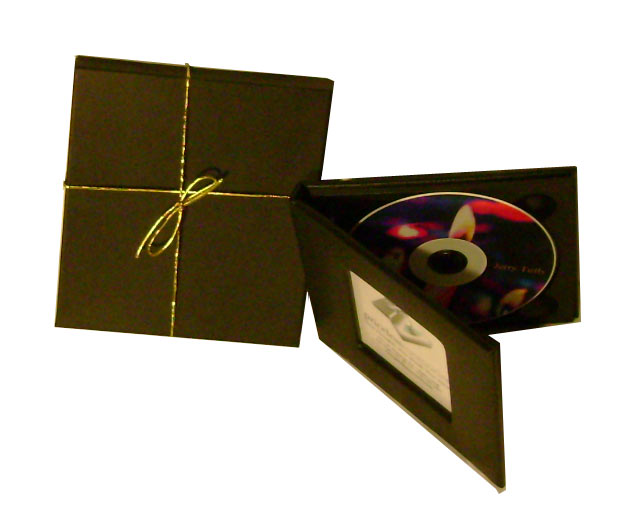 .
Additional copies of the CD are $7.50 each.
All completed CDs are delivered by Express Mail or UPS Next Day Air -- A shipping and handling charge of $16.95 is added to each order.
Any applicable sales tax is included in the price of all items sold.

Easy to Use:
The finished product is placed on a standard audio CD with a custom label, so that the person receiving your gift does not have to use the latest technology to listen to it. They just have to put the disc in any CD player and press play.
Break Through the Barrier that Stops Your Loved Ones From Appreciating Their Own Greatness
I was driving the other day, and I realized that it is almost impossible to stop the flow of negative self talk that invades our minds as we battle the circumstances of daily life. We all struggle to focus on our successes and not on our failures.
Have you ever tried to compliment someone only to have them reply: "Oh, it was nothing." How do you get through this barrier? How do you let your loved ones feel what a difference they make in your life and the lives of the people they touch each day?
Then it hit me!
We Are All Like Sally Field
At the 1985 Oscar Ceremony, after receiving her second Oscar for the movie "Places in the Heart," Sally Field said the following words in her acceptance speech:
"I haven't had an orthodox career, and I've wanted more than anything to have your respect. The first time I didn't feel it, but this time I feel it, and I can't deny the fact that you like me, right now, you like me!"
Because the world could not handle the raw emotion of that admission, we now remember only the parody of Sally Field's comment: "You like me. You really, really like me!"
The real question that stopped me cold was: How could Sally Field not know that we liked and respected her? She had already enjoyed a successful career appearing in many blockbuster movies, she had received the attention of millions of fans, and she had already won her first Oscar for Norma Rae in 1980.
And yet it did not sink in!
What about the people that you love?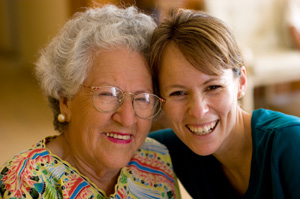 When do you get the chance to make them feel how much you care?
When do they get to read their reviews and receive their awards, so that they can feel respected and appreciated?
How can you be sure that they know how you feel?
What can you do to get through the noise of their daily lives and show them how much you care?
A Life Worth Living is a Life Worth Recording
I believe that there are three simple truths in this life:
Everyone deserves to be remembered.
Life is not defined by what happens to you, but by the stories you and your loved ones tell about what has happened to you.
The best time to capture these stories is when some event interrupts the crush of daily life and puts you and others in the mood to reflect about the things that matter most.
A Priceless Memories audio recording provides the perfect way to capture your own thoughts and words in your own voice to create a unique and powerful gift. The power of this gift is magnified when you add the voices of family members and friends who all confirm that your loved one has made a difference in their lives, too.
How Many More Chances Will You Have to Tell the People You Love How You Really Feel Before It is Too Late?
Let me share two stories with you.
On May 30, 2001, I took my mom to the doctor for her regular visit, and the doctor told her that everything seemed fine – her blood pressure was O.K. and her heart sounded strong.
After visiting the doctor, we had lunch at the Rainbow Club like we usually did. My mom did not have much of an appetite, so we took her meal home in a doggie bag. I dropped my Mom off at her house, and I went back to work.
On Sunday, June 3, 2001, I called my Mom to tell her that my wife and I were coming to pick her up to do her weekly grocery shopping, but she did not answer the phone. When we got to my Mom's house, I found her lying dead on the floor of her living room.
We called the paramedics, but it was too late. Nothing could be done.
I did not expect my Mom to die only four days after we had lunch that day, and I did not realize that day was the last time I would ever speak to her. That day was my last chance to let my Mom know what she meant to me.
In November of 2007, I received an email on a Friday from a woman seeking to set up a recording line for her father's birthday in three weeks. After responding to the email, I called on Monday to discuss the details of the project only to learn that her father had died on Sunday, and the woman had flown out of town to arrange his funeral.
I share these stories to help you take a different view of the events in your life. You need to ask yourself how many "times" you believe each special event will happen again during your life.
How many more "times" will your entire family have the chance to celebrate a holiday together?
How many more "times" will you get a chance to celebrate a parent's birthday?
How many more "times" will you get a chance to celebrate a child's graduation, or wedding, or a birth of a grandchild?
How many more "times" will you speak to a co-worker and friend who is retiring or changing jobs?
How many more "times" will you get to speak to your Mom or your Dad?
How many of these perfect opportunities to share how you feel will go by before it is too late?
It is too late for me to share any more stories with my mother. Don't wait until it is too late to share with your loved ones the stories that matter most to you.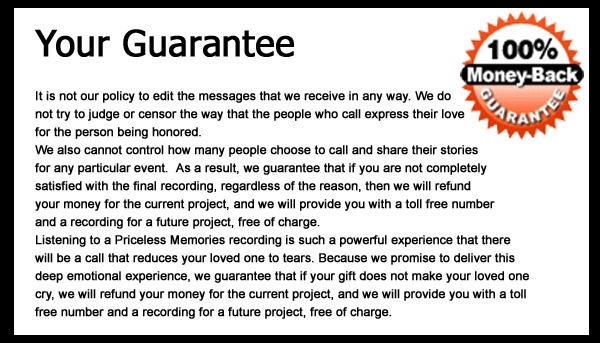 To place your order, click here now. Or you can place your order by telephone by calling our toll free order line at (866)-913-0625, Extension 1001 or (702) 505-9955. Telephone orders are checked each night at 10:00 p.m. Pacific time, and you will receive a return call on the next business day to arrange the details for your Priceless Memories recording.
After your order is received you will receive a confirmation email for orders placed online. You will also receive a telephone call at the Day Phone number that you provide when checking out in order to arrange the details of your remembrance recording.
Even if you choose not to order, I wish you luck on your quest to find the perfect gift for your loved one.
With many thanks,

Mark A. Kemp
Founder

P.S. There is nothing so terrible as words left unspoken. Take the time to give your loved ones a gift that shows how you really feel. I can never again share with my mother how much she meant to me. Make sure that you avoid the risk of feeling regretful after your loved ones are gone from your life.